Bodelwyddan 1,700 new homes plan submitted to council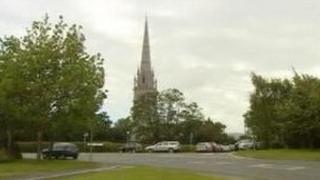 Plans for a major development including 1,700 homes, a school, care home and hotel near a village have been submitted to Denbighshire council.
Opposition was raised in 2011 when land at Bodelwyddan was earmarked by the council to meet expected housing needs.
Now, Cardiff-based Barwood Land and Estates has lodged an outline application for the site east of the village and running alongside the A55.
The plans have yet to be formally considered by councillors.
There has been opposition since the authority proposed in 2008 to designate a big site at Bodelwyddan as a key area in its Local Development Plan and which was approved last year following a lengthy public inquiry.
The planning application includes over 1,700 houses, a new primary school, 80-bed care home, two community centres and a 100-bed hotel.
Over 950,000 square feet (88,000 sq m) of floorspace has been allocated for employment purposes, including offices, starter units and small-scale warehousing.
'Unmistakably Bodelwyddan'
A new access is proposed between the A55 at Junction 26 and Sarn Road which runs past Glan Clwyd Hospital.
Opponents argued the character of the existing village of Bodelwyddan which has a population of just over 2,000 will be lost and that the local infrastructure could not cope.
But Owen Jones, a director of planning consultants Boyer Ltd, says in documents supporting the application that the result will be "an expanded place that is still unmistakably Bodelwyddan, not a new community and an old community side by side but a whole community that uses its existing assets".
The developers claim that the mixed development will enable Denbighshire to take advantage of the investment opportunities along the A55 corridor while allowing people to live with walking or cycling distance of their place of work.
It not known when the plans will be considered by the county council but a public consultation will be held first.
The developer has outlined its plans for Bodelwyddan on its website and its planning application (reference: 40/2013/1585) can be seen on Denbighshire council's planning website.