Brymbo and Gresford libraries closer to shutting in Wrexham cuts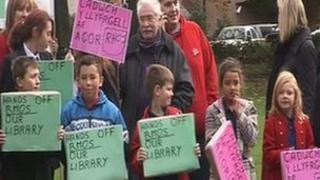 Two libraries are a step closer to shutting in Wrexham under plans to save the council money.
Gresford and Brymbo libraries are earmarked for closure unless the local communities can step into fund them before April. Other libraries will see their opening hours cuts.
The changes are due to come into effect on 1 April, saving the council £92,000 a year.
No final decision has yet been made.
A report considered by the council's executive board warned the cuts would lead to the authority failing to meet statutory targets for library services by 16%.
But it warned that "in view of the severe financial constraints facing it, the council has no alternative".
A further report has been commissioned to look at the future funding of library and cultural services.
If the plans are agreed, opening hours across the other libraries will be cut by 19% on average.