Jobs under threat as Clwyd Leisure funding withdrawn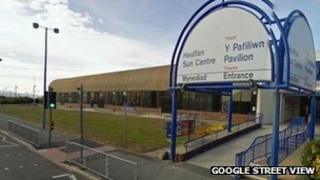 More than 100 jobs could go after Denbighshire council's decision to withdraw funding for a company which runs three sports and leisure centres.
Clwyd Leisure has said it would not be able to operate Rhyl's Sun Centre and two Prestatyn sites if its subsidy was cut.
But the council has decided not to hand over £200,000 in April after concerns over the way the company was run.
Clwyd Leisure has said it will issue a statement on Wednesday.
Over 3,000 people joined an online group to save the Sun Centre, the Nova Centre and the North Wales Indoor Bowls Centre, both in Prestatyn.
But Denbighshire councillors said they could not take over the sites and will withdraw funding from April.
The council said operator Clwyd Leisure knew about the cuts three years ago.
If all three facilities close on 31 March, 70 permanent and 55 seasonal jobs will be lost.
Huw Jones, cabinet member for leisure, said: "Cabinet has taken this decision today to withdraw funding as of April and not to take over the company, as we had no option as there were too many concerns and issues about the way the company was being run.
"The facilities have been in a poor condition and have been badly run for a number of years.
'Serious issues'
"The council has a responsibility to make sure that any company running services on its behalf provides value for money with good standards of service and customer care.
"That has not been the case with Clwyd Leisure. There are serious issues around management of the facilities, employment of staff, as well as health and safety concerns.
"In fact, the company itself recognises some of these issues and approached the council months ago, asking the authority to take over the company.
"We did positively consider this option, but there are simply too many risks involved."
The council said the remaining £200,000 grant that would be provided to Clwyd Leisure in 2014/15 will now be used to promote leisure, tourism and events for the coast.
Before the meeting, one worker had called on the council to restore its subsidy or take control of the centres because it set up the not-for-profit trust to manage the facilities in 2001.
Laura Baldwin, manager of the bowls centre and a staff representative on the board of Clwyd Leisure, also started a petition to try to save the sites.