Dead boa constrictor found 'dumped' at Erddig, Wrexham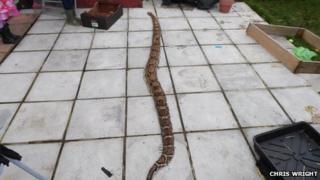 A reptile enthusiast says he suspects a "beautiful" 9.5ft (2.9m) boa constrictor was probably "dumped" in the countryside to die.
Chris Wright, 31, said the snake was found near a footpath at Erddig Wrexham, by a friend.
He said he believed the snake had been alive shortly before because it was "in such a good condition," but he buried it after ensuring it was dead.
The RSPCA said it wanted to reduce the number of exotic pets kept.
Mr Wright said: "It was a very healthy boa constrictor.
'Unfortunate job'
"I suspect it was alive initially, because it a very healthy animal. It was in such a good condition.
"It was dumped late Friday night or early Saturday morning and I picked it up on Saturday night.
"I had the unfortunate job of burying it behind my house."
The RSPCA said the snake could have escaped or been abandoned.
A spokeswoman added: "In general people need to think carefully before taking on a pet like this.
'Massive animal'
"You can come across a boa in a pet shop and it's a tiny little snake, just 12 inches long.
"But they get bigger and bigger until the owner suddenly finds they have a massive animal on their hands which they do not have space for.
"In fact boas can grow to over ten foot in length and live for up to 20 to 30 years."
The RSPCA wants to reduce the number of exotic pets kept as pets.
A spokeswoman for the National Trust-owned Erddig estate said the snake was not found on their property.
But she added: "I would always recommend people contact the RSPCA if they have a pet they can't handle."
North Wales Police confirmed they were called but did not attend the incident.