Llangollen print factory and supermarket work to start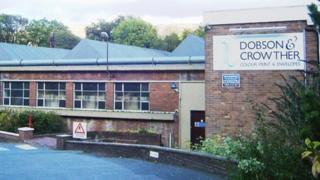 Construction is due to start on building a replacement factory for a Denbighshire print works which will pave the way for a new supermarket.
Dobson and Crowther in Llangollen wants to move its 100 staff to the new site further from town at Climedw.
Work can then start on a Sainsbury's on the existing print works site.
Construction is expected to begin on the supermarket later this year. The multi-million pound project divided opinion when first mooted in 2011.
Both projects were given the go-ahead last year despite opposition from the town's civic society and some local traders.
Concerns were also raised by others about the knock-on effect on tourism in the town centre.
Llangollen councillor Stuart Davies said: "I am very pleased to see the plans coming to fruition.
"I fully supported this development at the planning committee realising that it was going to safeguard existing jobs and create new ones."
At the time Dobson and Crowther said its existing factory was no longer fit for purpose and was inefficient and costly to run.
It was taken over by a management buy-out in 2006, with the existing building being used for over 65 years.
Once complete, the supermarket is expected to create around 130 new jobs.
Sainsbury's development surveyor Joanne Hawley said: We will continue talking to local people about how Sainsbury's can work together with all Llangollen town centre stakeholders and we will be starting to recruit new colleagues ahead of the store opening in 2015."