100 jobs to come at Wrexham-New Zealand call centre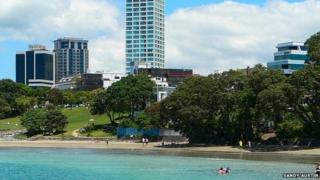 A call centre in Wrexham which sends staff out to New Zealand to cover night-time shifts back in the UK is to create more than 100 jobs in 2014.
Moneypenny telephone answering service said they would appoint 30 people immediately, with the rest spread over the year.
The company reported a 500% increase in the number of calls it had handled over Christmas and New Year compared to the same period a year ago.
It currently employs around 300 people.
The company began sending some staff out to Auckland in New Zealand over a year ago after asking if people would prefer to do night shifts or relocate to the southern hemisphere temporarily.
Groups of four workers now go out for around four to six months and take over from the daytime staff in Wrexham when they leave in the evening.
The company decided to use the New Zealand base because of research showing the detrimental effects on people of working nights including affecting health and attitude.
'Phenomenal'
A spokeswoman for the company said some of the new employees might be eligible to take part in the scheme once they were sufficiently experienced.
Managing director Glenn Jackson said: "As a business we experienced phenomenal growth in what was perceived as the downturn and since that time we continue to not only consolidate and grow in the business sectors in which we are already well established, but in new market areas too.
"Even over the Christmas and New Year period when we would expect the phones to be quiet, we saw a 500% increase on the numbers of calls we were taking for the businesses large and small we support as compared to the same time last year."
He added: "We also continue to see growth in the numbers of UK businesses, for example law firms, requiring their phone calls answering overnight by our receptionist team over in Auckland, New Zealand."
He said it was "vital" for the recruitment process to keep pace with the growth of the business.