Council seeks Denbigh's North Wales Hospital repair costs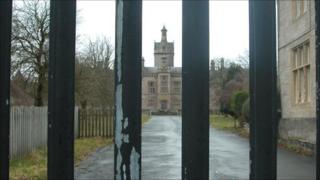 Action to try and recoup the cost of repairing a derelict former hospital is being continued by Denbighshire council.
It says it paid £900,000 for work on Denbigh's North Wales Hospital after claiming the site's owners failed to comply with an urgent works notice.
The owners have appealed against invoices for payment and a public inquiry will be held in April.
A pre-inquiry meeting is being held all day on Wednesday at Denbigh Town Hall.
The psychiatric hospital closed in 1995 as part of a reorganisation of health services.
Owner Freemont (Denbigh) Ltd had planned to build up to 280 homes, businesses and community facilities on the site, with the redevelopment enabling the original listed buildings to be restored.
Fire damage
However, the planning consent expired in 2009 and the hospital's condition has deteriorated since it closed, with buildings looted, vandalised and damaged by fire.
Last year it was revealed the bill to carry out emergency repairs at the former hospital had reached £930,000.
Denbighshire council is seeking a Compulsory Purchase Order (CPO) which Freemont (Denbigh) Ltd has previously said it will oppose.
On Tuesday, the council said invoices had been served on the site's owner, which is based in the British Virgin Islands.
However, the owner has appealed against notices worth about £450,000, and the issue will be heard at a public inquiry between 8 and 11 April.
The Planning Inspectorate will then make a recommendation to Welsh government ministers on the appeal.
Graham Boase, Denbighshire's head of planning and public protection, said: "Whilst this is a hurdle in the long-running history of the site, the council is adamant that it will pursue action against the owner to recoup the costs.
"The council gave the owners ample opportunity to comply with the urgent works notices and from the outset they have decided not to play ball."
He added: "The Welsh government has said that two of the five appeals (worth another £450,000) will not be considered as they are deemed to be out of time.
"The council is considering its legal position on this matter."
Wednesday's pre-inquiry meeting is open to the public.