Robbie Savage joins fight to save Plas Madoc Centre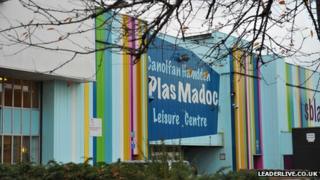 Former Wales footballer Robbie Savage has appealed for a Wrexham leisure centre at risk of closure to stay open.
A consultation is under way on council plans to close facilities at Plas Madoc and Waterworld to save money.
The Wrexham-born BBC pundit said he had "great memories" of Plas Madoc, where he used to play football, and he hoped the facilities would stay open.
Councillors want to demolish the two centres and replace them with a £12m facility.
A consultation is ongoing following a review of 11 sports and leisure facilities operated by Wrexham council as it seeks to make budget cuts of £13m in the next financial year.
The proposals were due to go before the council's executive board for approval next week.
But on Wednesday the council announced the consultation period had been extended until 31 January.
Local residents formed the Save Plas Madoc Leisure Centre Campaign (SPMLCC), which has been backed by Savage.
The midfielder, who played for Leicester City, Birmingham and Derby County, said: "I loved going there as a kid. It was a treat, especially for the wave machine.
"I'll never forget the football five-a-side competitions with Llay United.
"I have great memories of Plas Madoc and sincerely hope it stays open."
SPMLCC spokeswoman Rachel Lewis said: "This shows just how important Plas Madoc and other leisure facilities can be for local youngsters.
"It can be the stepping stone to an international career and it's wonderful that Robbie hasn't forgotten his roots here in Wrexham.
"Robbie's comments also emphasise that Plas Madoc is about much more than just a swimming pool.
"It's got a great gym and other sporting facilities that are valued by young and old alike."
Wrexham FC player-manager Andy Morrell has also reportedly backed the campaign, saying facilities that promote exercise should remain open.
Campaigners say they are planning to protest outside Plas Madoc and Waterworld next weekend.
The proposals will go before the council's executive board for approval on 11 February.