University hopes to boost Wrexham's high street trade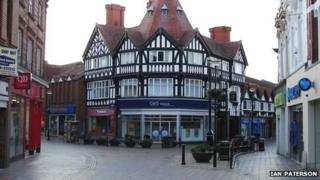 A six-year university study to try and "breathe new life" into Wrexham's high streets will start in the new year.
The town is one of 10 in the UK chosen in Manchester Metropolitan University's (MMU) High Street UK 2020 project.
Prof Cathy Parker, leading the study, claims out-of-town shopping means the "threat to high streets in Britain is now at an unprecedented level".
Wrexham was chosen because researchers wanted to reflect "Welsh high streets as well as other UK towns".
The £250,000 study will start in January 2014, focusing on the high streets of Alsager, Altrincham, Ballymena, Barnsley, Bristol, Congleton, Holmfirth, Market Rasen, Morley and Wrexham.
Researchers hope to assess the performance of the high streets and to pass on information through local workshops and an online support centre.
Information will be used to "model different futures for the high street and create appropriate plans for each scenario that could play out over the next few years".
'Out of town' threat
Ms Parker, chair of marketing and retail enterprise at MMU, said: "The changing nature of retail in Britain brings many benefits to consumers but is having significant consequences for communities and retailers themselves.
"Having suffered the impact of out-of-town shopping for some 30 years, evidence shows that the threat to high streets in Britain is now at an unprecedented level.
"But despite this research, government-commissioned reports and extensive media coverage, it is far from clear that retailers, local actors and agencies responsible for managing places know how to respond effectively.
"The project will focus on understanding the changing nature of retail along with getting to grips with changes in high street space usage and what forces are influencing changes."
She added: "We chose Wrexham as the town centre management have always been very proactive in approaching MMU for training and research, so we knew they would be hard-working members of the project.
"In addition, we want to make sure the project is reflective of the situation facing Welsh high streets as well as other UK towns."
Colin Jones, Wrexham's town centre project officer, said the council was looking forward to working with the university.
He added: "The town has an excellent range of shops, from small local independent businesses and markets to national retail names, and we are always looking at ways in which the town can be made even better."