'Secret' garden in Denbighshire to be opened to public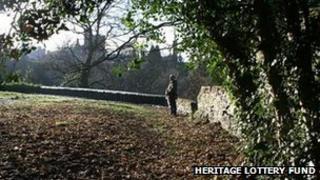 A 13th Century garden in Denbighshire will be opened up to the public for the first time thanks to a £177,600 restoration grant.
The money from the Heritage Lottery Fund will pay for the Grade II listed Lord's Garden, behind Nantclwyd y Dre house in Ruthin, to be reinstated.
The garden in its current form has been in place since the 18th Century but there is currently no public access.
The restoration will take 18 months and should be complete by summer 2015.
A plan was created outlining proposals to stabilise and reinstate the garden's historic features, following the first stage of HLF funding in March 2012.
The latest project will see pupils from Ysgol Bryn Hyfryd research and design a planting plan and leaflets.
They will also collect information on the garden to be included in an interactive touch screen tour inside the house.
Volunteers and young people aged 11 to 19 will be trained in gardening and grounds maintenance skills to help reinstate some of the site's original features.
An existing partnership with Barnardos during the first stage of the project will see groups of unemployed people and young care leavers joining in the restoration work.
Medieval garden
Jennifer Stewart, head of the Heritage Lottery Fund in Wales, said the project would give people the opportunity to learn more about the garden's heritage and gain new skills.
"It's inspiring that local people have provided so much support for this project, particularly the Friends of Nantclwyd-y-Dre and I am really looking forward to following the progress of the project and the difference that it makes," she said.
Samantha Williams from Denbighshire's Heritage Service, which is leading the restoration, said everyone was keen to bring the "secret" garden back into use.
The Lord's Garden is located at the back of the Nantclwyd y Dre, which is reputedly the oldest known timber framed town house in Wales dating back to 1435-36.
The garden is believed to have originated as a medieval castle garden as early as 1282 for growing fruit, vegetables and medicinal and strewing herbs for Ruthin Castle.
Its current layout was created in the early half of the 18th Century when it was linked in ownership with the house, and paths were laid out and a gazebo was added.
The garden is on conservation charity Cadw's register of landscapes, parks and gardens of special historic interest in Wales.
It is considered to be one of the most precious and interesting historic gardens in north Wales for its age and rarity.