Volunteers in bottles clean-up at Bagillt shoreline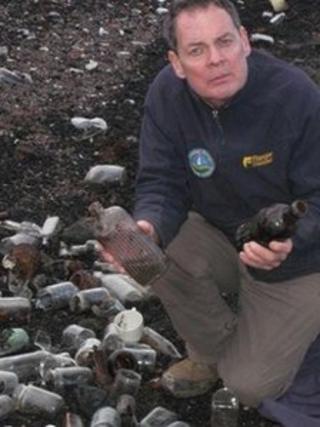 Volunteers are cleaning up a stretch of Flintshire shoreline after hundreds, or even thousands, of bottles were washed up after a storm.
Coastal rangers called for anyone with strong boots, gloves and warm coats to meet at the area popular with dog walkers on Saturday morning.
The coastline was badly hit by fierce winds and an abnormally high tide on 5 December.
Bagillt saw a nearby historical landfill site washed away.
And given that the site in question dates back to the early 20th Century, Tom Woodall of Flintshire coastal rangers said the volunteers' good deeds could well be rewarded.
"Most of the bottles and jars have been smashed to smithereens, but amongst them there are dozens still intact," he said.
"I'm no expert but given the age of the landfill site, I'd guess that several of them could be quite valuable."
He said the landfill site had long posed a problem in the area.
Locally the area is referred to as The Clinks owing to the amount of glass buried there.
"I have no idea whether it was glass in particular which was dumped there or if there's some quirk of coastal erosion which means that it's only the bottles and jars which get washed back onto the foreshore," said Mr Woodall.
"But even though this is the worst incidence we've seen, this isn't a new problem.
"Back when people would pay for old glass, you'd frequently see children scavenging for bottles at The Clinks following any spell of bad weather."
It is hoped the clean-up will take care of all the whole bottles and large fragments of broken glass.
However, it cannot hope to capture all the smaller shards.
Therefore the rangers are advising dog walkers to avoid the area for the next month or so, until nature and the tide can take care of the rest.