Rhyl flood home repairs to keep residents out for 10 months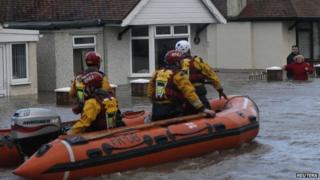 Flood-hit residents of a Denbighshire town may not be able to return to their homes for another 10 months, the mayor has said.
Andy Rutherford set up a fund after 150 homes in Rhyl were hit by a storm surge which sent waves of water along roads.
Denbighshire council has re-housed 54 people while others spent Christmas with family and friends.
But the councillor said it could be next autumn before everyone returns home because repairs will take so long.
"There is never the right time for this to happen but at Christmas it makes it that bit harder," he said.
"We have quite a number of people displaced from their homes and for a number I don't think they will be back in there for at least 10 months.
"What worries me is time moves quickly and what was a news story one day fades from people's memories - but for those people affected it doesn't fade and they are stuck."
'Very lucky'
The mayor said there were many different issues with some in temporary housing unsure how long they would be there, and others who did not have insurance or had insurance capped at £5,000.
And 400 people were evacuated from their homes when a storm surge sent waves of water pouring down streets near the seafront on 5 December affecting areas along the north Wales coast.
Gay Harris, who is well known in the resort through her dance group, is staying with her daughter Adele while her property is surveyed after the floods.
"I haven't lost everything like the people next to me," she said.
"I saw water going by my house and then it went whizzing past."
Ms Harris had to be rescued by the RNLI and firefighters in an inshore lifeboat.
"I did get very wet," she said. "The water was waist high."
She paid tribute to Denbighshire council staff for their continued help and the assistance of the emergency services.
Ms Harris described herself as "very lucky".