Wrexham FC fans to mark 150th anniversary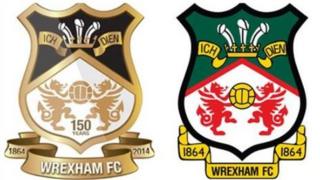 Wrexham FC celebrates its 150th anniversary in 2014 with a host of events including a civic reception being planned for the New Year.
A commemorative badge has been made to mark the club's boast of being the oldest professional club in Wales.
The team's history was rewritten in 2012 when archive research confirmed it was actually set up in 1864 and not 1873 as had been thought for decades.
Fans who own the club are organising community events throughout the year.
The first is a civic reception for 150 guests in late January, although invitations have yet to be sent out.
Spencer Harris, a director of the Wrexham Supporters' Trust, said: "It's going to be a tremendous 12 months.
"Let's hope we can keep it up on the pitch.
"We kick off with a civic reception in January and then a calendar of events."
Other activities include a "legends" game with a hoped-for return of former players as well as a football tournament.
Founded by cricketers
Club historians found an article from the former Wrexham Advertiser suggesting it was founded in 1864 as members of a local cricket team looked for something to do in their closed season.
And fans agreed to accept the revised founding date in 2012 when it was put to a vote.
The club has had its ups and downs over the years from becoming giant killers when they knocked Arsenal out of the FA Cup in 1992 to facing financial ruin and collapse before fans took over the club in November 2011.
In December 2013 Racecourse stadium owners Glyndwr University announced an upgrade to facilities had boosted capacity to above 10,000 for the first time in five years.
The ground is also used by the North Wales Crusaders rugby league team as well as hosting international events.