Unite union meets Sharp over hundreds of Wrexham jobs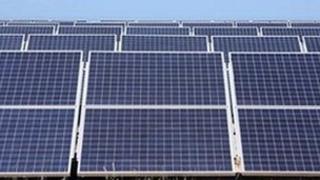 The Unite union has held talks with Sharp after the electronics firm revealed plans to cut hundreds of jobs at its Wrexham solar panel plant.
Sharp said it was cutting 250 jobs and not renewing 365 agency workers' contracts in an announcement on Monday.
The company said the decision affecting its Llay factory was "unavoidable" given trading conditions which "left Wrexham's output uncompetitive".
Unite said its priority is to offset or reduce redundancies.
Union representative Brian Apsley, and other union members, held their first consultation meeting on Thursday afternoon.
Mr Apsley said the union's first priority was to talk about off-setting or reducing redundancies, though he added the decision already appears to have been made regarding the solar plant.
Unite also wants to ensure, he said, that union members are properly looked after throughout the process.
The union claims it had not been consulted on the plans.
Mr Apsley said the closure of the solar panel line was relayed to staff before Unite was informed.
"I don't regard that as proper consultation," he said.
Warning signals
He added that although there may have been warning signals when the government cut the feed-in tariff subsidy, the closure announcement still came as a shock.
The factory, near Wrexham, will cease solar panel production in February.
Sharp said its European solar business was being transformed to ensure "regeneration and long-term growth".
Hiroshi Sasaoka, of Sharp, said: "It is with sincere regret that we have decided to end solar panel production in Wrexham.
"Our employees are our greatest asset, and we have been fortunate to have a loyal, hardworking and committed workforce since we began solar production here in 2004.
"The Wrexham facility will continue to produce microwave ovens, and we will be investigating additional products for development."
The Welsh government has offered its support to people facing redundancy.
Sharp opened its factory in Wrexham in 1984 and is one of the town's biggest employers.
In 2004, it began manufacturing solar panels for both residential and commercial installations and two years ago it expanded production following a boom in the industry.
Sharp also created a training facility for solar panel installers.
However, it stopped any further expansion when changes were made to government subsidies paid under the feed-in tariff to householders in late 2011.
The company said there was the possibility the factory may develop other products on the site in the future.