Hafod Y Green care home fire inquiries get under way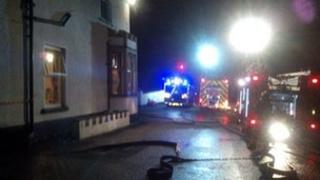 Thirty two residents of a Denbighshire care home have been temporarily moved to other accommodation following a fire at the building.
Hafod Y Green, in Trefnant, near Denbigh, was evacuated after a fire was reported on the third floor shortly after 17:30 GMT on Monday.
Some residents have gone to Denbighshire Infirmary and others to the Cysgod y Gaer nursing home in Corwen.
A fire investigation is ongoing.
The home looks after young adults with brain injuries acquired through illness or accident.
There are about 20 bedrooms which have not been affected by the fire.
The home's owners are hoping they can return residents to Hafod y Green fairly soon so as to keep the distress and disruption to a minimum.
At the height of the fire, around 30 firefighters were involved in tackling the flames.
The roof space of the building was badly damaged but no one was injured as a result of the blaze.
Firefighters were at the scene on Tuesday morning looking for any remaining hotspots.
Denbighshire county councillor, Meirick Lloyd Davies, said: "It's not been too bad, obviously any fire causes damage but it's contained to the third floor in the roof area."