Warden fines in Mold prompt parking 'rethink' call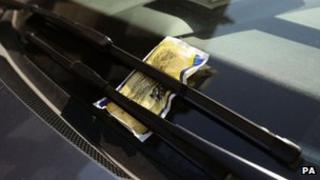 Nearly 1,000 parking tickets have been issued in Flintshire in the 10 weeks since new wardens were brought in.
Almost two thirds were issued in Mold, leading an assembly member to call for a "rethink" on parking policy.
Antoinette Sandbach believes a lack of free parking in the town means businesses could suffer.
Flintshire council said it had a good "working relationship with Mold Town Council in addressing parking issues".
Before the five council wardens were introduced, parking offences were enforced by police.
Conservative AM Ms Sandbach claims figures, obtained under the Freedom of Information Act, show more than £22,000 has been raised so far, with 351 penalty notices still unpaid.
Of the 995 tickets issued, 613 were in Mold, followed by 145 in Flint, 83 in Buckley, 66 for Shotton and 32 in Holywell.
Of the fines, 800 were for illegal parking on the street.
Ms Sandbach said: "It is interesting that Mold is one of the few places in Flintshire that charges for parking.
"Small traders - who are competing against large shopping centres with free parking - consistently tell me that parking is an issue for their customers.
"I quite appreciate that certain locations and especially disabled parking bays, need to be kept clear to ensure traffic can flow easily, but if people are parking illegally to avoid car park charges, that can not be good for shops and businesses in our town centres."
She added: "I'd ask Flintshire councillors to look again at their parking policies for Mold.
"Anything that deters trade is a serious issue in today's economic climate."
Flintshire's five civil parking enforcement officers issued the notices between 1 October and the first week in December.
Councillor Bernie Attridge, cabinet member for environment, said there had been "a noticeable improvement in general levels of traffic congestion and highway obstructions" since the wardens were introduced.
He added: "We also have a very positive and constructive working relationship with Mold Town Council in addressing parking issues within the town.
"Indeed, the town council worked jointly with the county council in working through the current charging regime in force within the county council's town centre car parks, as they quite rightly saw real benefits in retaining some form of off-street car park charging."