Fencer David Gregory wins Great Britain epee title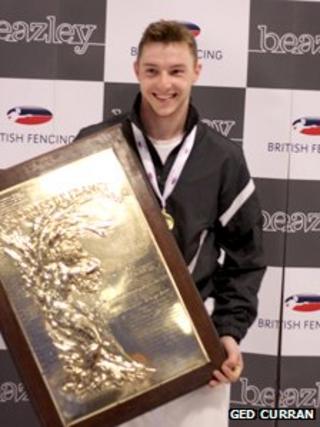 Fencer David Gregory has won Great Britain's epee title after missing out last year by one point.
The Wrexham-based fencer's win puts him in pole position for next year's Commonwealth championships in Glasgow.
But Gregory, 25, who won a place in the 2010 Melbourne Commonwealth fencing championships, says he may have to retire due to a lack of funding.
"I would gladly stay in the sport with the financial backing but I have to think of a career," he said.
"If you are going to do it, you have to do it right."
Gregory won the senior men's epee in Sheffield emerging victorious in a 99-player contest.
Two years ago he was third in the contest and last year he lost despite being ahead in the tournament.
"It's wonderful," he said on Thursday.
"Last year I came really close. I blame myself for not winning and have had a year of 'what ifs'. I think the pressure got to me.
"This year, I didn't think I would get to the final again. I'm training less now than in the past. It's a great sense of relief to win."
Gregory took up the sport 14 years ago, encouraging his mother Rose to do the same.
The pair have both landed Welsh champion titles over the years, with Gregory taking the title again in April this year.
Winning the GB crown makes him "almost certain" to be selected for the commonwealth games in Glasgow, he says.
"If I win a commonwealth medal, then I feel that I won't be able to do more than that, I'll have progressed as far as I possibly can," he added.
"To go further, to compete on a European, world or Olympic stage, it comes down to funding and training.
"The training is more important than the competing. If I have to work six days a week - I'm working close to 60 hours a week at the moment - I'm not going to achieve anything.
"At the moment I'm beating really good people from big clubs with lots of coaching. I'm doing it against the odds. It's just my desire to win.
"If I had all these resources, I would get better. I need to compete abroad."