Rhyl sea wall repairs under way after floods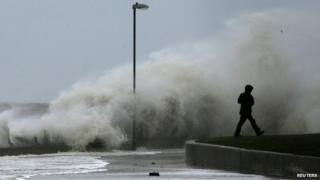 Sea defences at Rhyl are being repaired as quickly as possible to give people "peace of mind" in the wake of last week's floods.
Temporary repairs and sandbags are being put in some areas while sea wall replacements are made, Denbighshire council said.
Part of the wall near Rhyl golf club will be recast in concrete.
Work will also be carried out on the wall by Garford Road where homes were flooded, the authority said.
"We are working quickly, so that we can provide those affected with some peace of mind at the earliest opportunity," said Councillor David Smith, cabinet lead member for environment.
In Rhyl 150 homes suffered flooding and 400 people had to leave their homes.
A total of 54 people have been re-housed temporarily while the clean-up continues.
A new sea defence wall will be installed at Splash Point where the waves eroded the embankment.