Rhyl floods probe to improve future resilience, says minister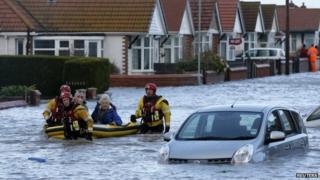 An investigation into floods in north Wales should help to improve future resilience and find out what happened, said the Natural Resources Minister.
Although Rhyl was the worst-hit by last week's storm surge, problems were felt along the coast, said Alun Davies.
In Rhyl 150 homes suffered flooding with 400 people evacuated to safety.
He said homes also flooded at Kinmel Bay and Llanddulas in Conwy county, while 2,000 properties lost power around north Wales.
"This was an extraordinary event and it is fortunate that lives were not lost," he said.
"This was thanks to the existing defences, effective forecasting and the coordinated efforts of the emergency services and Natural Resources Wales and local authorities."
While the clean-up continues, 54 people have been rehomed by Denbighshire council, which is pledging to continue to help people over Christmas.
Every day this week a refuse lorry is being parked in the area for householders to dispose of sodden items that are not white goods.
Rail services continue to be affected between Llandudno and Blaenau Ffestiniog as the Conwy Valley rail line was closed due to ballast being washed away.
Mr Davies explained that under the Flood and Water Management Act 2010, a local authority normally investigated flooding in its area.
However, he has asked Natural Resources Wales to co-ordinate the inquiry as one "comprehensive report is better than three or four separate reports by the relevant local authorities".
He added: "The source of the flooding is already fairly well understood but this report should also consider where and why any breaches occurred, show where improvements can be made and help us plan ahead to improve our resilience and response to such events in the future."
He said since 2011 the Welsh government had provided £20m for improvements to coastal defences along the north Wales coast and a further £9m of works were planned.
The minister highlighted the £10m West Rhyl Coastal Defence scheme, saying it would "reduce the risk to 2,700 properties and undoubtedly helped to avoid further impacts from last week's flood event".