Mold market crash: Police interview car driver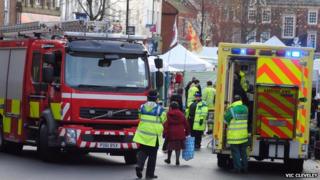 The driver of a car that crashed into market stalls, injuring eight people, has been interviewed by police.
Two people suffered serious but not life-threatening injuries in the collision in Mold, Flintshire, on Saturday.
North Wales Police confirmed the man had been formally interviewed but had not been arrested.
Witnesses say the car drove on the street, which was closed to traffic on market days.
Following the incident at the weekend, mobile phone stall trader Paul Bingham told how he heard the revving of a car engine at around 10:53 GMT before it collided with one of his customers.
His stall is at the top of the market and the car missed his trailer and ploughed into another nearby.
"It was horrendous," he told BBC Wales.
Shoppers and traders helped the injured before the emergency services arrived.
The town hall was used as a rest centre and Halifax bank staff took cups of tea to shocked witnesses.
Eye witness Helen Freak told BBC Wales: "It made a hell of a bang, and it hit a concrete dragon.
"I think that sort of alerted people to what was going on and we watched this car career through the market with people just trying to get out of the way - pushchairs, kids - it was horrible."
Five people were taken to Wrexham Maelor Hospital, according to North Wales Ambulance Service.
A female patient was flown by air ambulance to Glan Clwyd Hospital and two others with minor injuries were taken by ambulance to the Countess of Chester Hospital.
Anyone with information about the incident is asked to call 101.