Nelson Mandela death: Public bodies lower flags in tribute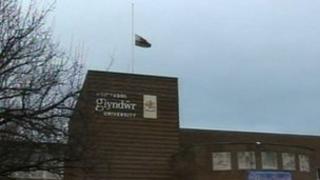 Flags are being flown at half mast across north Wales as a mark of respect to former South African president Nelson Mandela.
Wrexham was flying the Welsh flag and Union Jack at half mast outside the town's guildhall.
Conwy council also flew flags at half mast outside its Bodlondeb headquarters in Conwy.
Glyndwr University in Wrexham also marked the death with lowered flags.
Mr Mandela, South Africa's first black president and anti-apartheid icon died on Thursday aged 95.
Other councils in the region, some struggling to cope in the aftermath of Thursday's flooding incidents after a storm surge and high tide breached sea defences, said they had not had time to decide whether they intended to formally mark the former leader's death.