Ex-Remploy Wrexham workers laid off from Enterprise Employment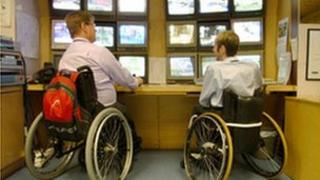 Former Remploy workers in Wrexham have been made redundant for the second time in 18 months.
Enterprise Employment was set up in June and gave work refurbishing council houses to 15 disabled workers.
But Wrexham council cancelled its contract because the company was in rent arrears.
The firm said it had expected to make 60 kitchen units a week, but some weeks only made six. Its owner hopes to reopen in new premises.
The Welsh government funded 75% of the workers' salaries, but some claim they have not been paid.
The company, on Whitegate Industrial Estate, is operated by Staffordshire businessman Ivan Timmis who hopes to reopen the factory in new premises.
'Mix-up'
One worker, who did not want to be named, said: "Everyone's very upset about this. The factory has shut down and we're still owed wages.
"We weren't paid at all last month and we're still owed money from September.
"It's been a disaster."
Mr Timmis said: "There's been a mix-up. It's very complicated and I don't want to go into detail.
"The key thing in all this is to try to make sure that the lads who've been working there stay employed. They've been absolutely brilliant and I'm sorry this has happened."
He said a lack of orders meant the firm had been unable to cover other costs, including rent and rates.
A spokeswoman for Wrexham council said: "It is disappointing that any company has to cease trading and put their employees out of work. However, this council has never had any such agreement, understanding or contract with this company regarding the provision of kitchens.
"We believe we did everything possible to help this company but they did not uphold their part of their tenancy agreement which resulted in the eventual termination of their tenancy after several attempts to resolve the matter by officers failed."
A Welsh government spokesman said it was "deeply regrettable news".
A statement added: "We are now exploring all options for finding alternative employment for those affected.
"Our Employer Support Grant did support people's income during their time employed at the company, but this has now come to an end.
"We have always opposed the closure of Remploy and we will continue to honour our commitment to support all former workers."