Hovercraft hopes for Rhyl, Llandudno, Liverpool and Blackpool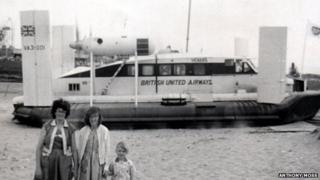 An MP says it would be "fantastic" to see a hovercraft ferry service return to Rhyl after 50 years as new plans are drawn up.
Vale of Clwyd MP Chris Ruane says three organisations have expressed interest in operating a service like the one that went across to Wirral in 1962.
But it only operated briefly as the craft was wrecked in a storm.
An RNLI volunteer is drawing up plans to run a hovercraft from Liverpool to north Wales and Blackpool.
Simon Clitheroe currently volunteers on a RNLI hovercraft at New Brighton, Wirral.
He says while there is still a lot of nostalgia for the old service among those who can remember it, a hovercraft today would be a fast means of getting around north Wales and the north west coast of England.
He estimates the journey time between Rhyl and Blackpool would be under 50 minutes by hovercraft.
Last week, during a debate about transport, Mr Ruane raised a question about whether a feasibility study should be conducted to see if a hovercraft service could be revived to improve travel links.
"Within three days of my speech in Parliament, I have been approached by three separate hovercraft companies that want to establish a hovercraft link between Rhyl and Liverpool," said the MP.
"Rhyl had the first hovercraft passenger service in the world.
"To see it reinstated 50 years after it ceased would be fantastic.
"It would provide a gateway for tourists from the Liverpool city region directly to Rhyl town centre."
Mr Clitheroe has already discussed his Hoverlink plans with the MP and has been in talks with Wirral council for 18 months about a service between New Brighton and Liverpool.
He has his sights set on a £5m hovercraft which could carry 130 people, unlike the four-seat version he uses for rescues from a base at New Brighton.
"Over the past 18 months we have undertaken major talks with key players and partners within the region and are hopeful to announce the start of the service by early 2015," he said.
It is not the first time the idea to restart Rhyl's hovercraft service has been discussed as another organisation launched an attempt in 2007.
But Mr Clitheroe hopes he can find backers to extend his services to include Llandudno where last year it was announced £330,000 was to be spent to build a new landing stage at the end of pier to allow cruise ships to return to the Conwy resort.