Timothy Cowen: Answers sought over Wrexham Maelor death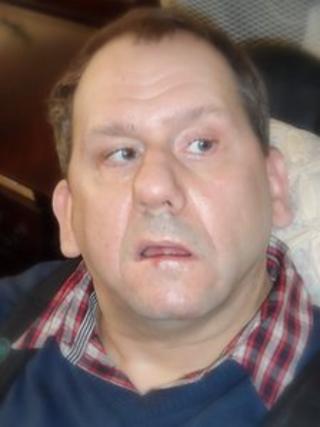 The family of a disabled man who died after a routine operation say they are still waiting to be told what went wrong, seven months after his death.
Timothy Cowen, 51, died after a gall bladder operation.
He had to be fed through a tube, and his family think he was fed incorrectly, filling his lungs with food, while at Wrexham Maelor Hospital.
A review is ongoing and Betsi Cadwaladr University Health Board apologised for not keeping the family updated.
Mr Cowen, from Caergwle, Flintshire, had encephalitis - an inflammation of the brain - as a result of a whooping cough vaccination when he was a baby.
He later developed epilepsy and other conditions that left him unable to walk or swallow, and needed 24-hour care.
He was fed through a tube into his stomach, rather than by his mouth.
His family say medical notes stipulated he should be fed during the day, while he was sitting up.
The family say an initial death certificate gave the cause of Mr Cowen's death as aspirational pneumonia as a consequence of suffering cerebral palsy.
However, they were unaware he suffered from cerebral palsy and requested an independent post mortem examination at the Countess of Chester Hospital.
It concluded the cause of Mr Cowen's death was bilateral extensive pneumonia.
His brother, Philip Cowen, said: "To the best of our knowledge Timothy was never diagnosed with cerebral palsy and we are alarmed that this should have been stated.
"We have serious reservations about the cause of death or at least the factors leading up to Timothy's death."
He said he tried to complain to the Betsi Cadwaladr University Health Board (BCUHB).
He added: "I was pushed around from office to office and nobody who represented the BCUHB was prepared to provide me with the information I sought.
"Also when the health board finally answered me, they apologised for the 'inconvenience' of my brother's death, and then said the next of kin had to sign a form so information about Timothy's care can be released to me."
'Extensive infections'
Mr Cowen said his brother developed problems after being sent home from hospital after the operation.
He said: "It transpired that Timothy was struggling to breathe, and large quantities of ingested food and fluid was drained from his lungs, the majority in his right lung.
"This inevitably led to serious complications and extensive infections in his lungs, which we were advised had spread to other major organs and somewhat speedily."
An inquest is due to be held, pending the outcome of a serious case review report by the BCUHB.
The case has been taken up by North Wales assembly member Antoinette Sandbach.
She said: "I would have thought the health board would want to act quickly and decisively in this case.
"There are clearly a number of independent witnesses to the feeding regime that was in place, and I haven't seen a single reply to the family that explains what went wrong and why."
'Matter of urgency'
Ms Sandbach said Mr Cowen's 82-year-old mother Berenice from Caerwys, Flintshire, wants to know the truth.
In a letter to the health board, she wrote: "Every week's delay has an adverse impact on her and the rest of the family.
"Perhaps you could explain the delay in this case as a matter of urgency, and advise me when the serious case review will be completed."
The family says it was told in May that an investigation had been launched.
However, Ms Sandbach claims that following her letter, she has been told a second review is under way.
Philip Cowen added: "The last seven months have been pretty horrific for my mother. It's been very traumatic."
In a statement, the BCUHB said: "We would like to apologise to Mrs Cowen and Mr Cowen for the delay in dealing with the investigation and for not keeping them updated and involving them in the investigation to this point.
"We are in the process of inviting them to a meeting to discuss their concerns and to give them the opportunity to ask questions."
The board said it was "undertaking significant work to ensure that any overdue cases are resolved as soon as possible".