Tenerife killer's Glan Clwyd Hospital care faces inquiry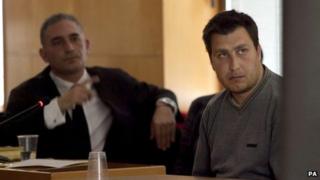 An inquiry is to be held into how a man with paranoid schizophrenia was released from a Denbighshire hospital only to murder a woman in Tenerife.
Deyan Deyanov beheaded Jennifer Mills-Westley, from Norwich, less than a year after treatment in Glan Clwyd hospital.
The Healthcare Inspectorate Wales (HIW) inquiry follows claims by the victim's family of failings in Deyanov's care.
The Betsi Cadwaladr health board has carried out its own internal review and said lessons have been learnt.
But it said it would co-operate fully with the new inquiry.
Mrs Mills-Westley, who was 60 and had retired to the Spanish island, was attacked by Deyanov in a Chinese supermarket the resort of Los Christianos in May 2011.
Deyanov, 22, was sentenced to 20 years in a secure Spanish unit in February.
The Bulgarian, who was homeless, has been diagnosed with acute paranoid schizophrenia. When arrested, he admitted he had used crack cocaine and LSD.
Previously, while visiting relatives in Flint, Deyanov had been treated at a psychiatric ward in Glan Clwyd hospital near Rhyl but released seven months before the killing and travelled to Tenerife.
Since the murder Mrs Mills-Westley's daughters have been asking for an official inquiry into what went wrong with Deyanov's care,
They welcomed news of the HIW inquiry.
Samantha Mills-Westley, who now lives in France, said her children just cannot understand why their grandmother is not there anymore.
"The most difficult thing for me as a mother is the fact that I'd only just given birth to my youngest child Eli and she only held her a handful of times
"It's just been devastating for our family, devastating obviously for mum's grandchildren who just don't understand what's happened."
Ms Mills-Westley remembers the time her eight-year-old daughter found out.
"She came down and asked me how much Mum had suffered and how somebody could take her grandmother's life.
"She said please tell me why someone wants to kill someone.
"It's incredibly difficult because we're living in such phenomenal pain and heartache every day as mum's daughters. But then to have to explain this to my children why this has happened... it's just unbearable."
Mrs Mills-Westley's other daughter Sarah said it was while Deyanov was in north Wales that things started to go wrong.
"It's very clear that there were failings in terms of Deyanov's risk assessment, the care that he had whilst he was sectioned, the levels of trainings of the staff, the consultant care that he had," she said.
"So there are a number of things that definitely points to failings in his care whilst he was detained.
"We owe it to her to try and find what happened and to try and stop it happening to somebody else."
The review will be carried out by the regulatory body HIW, which says it plans to start work properly in the very near future.
HIW said it was the first time it was carrying out a review in such circumstances, a killing that happened outside the UK.
It said the results, expected in the summer, would be made public so that everyone could see what went wrong and if any action needs to be taken.
Betsi Cadwaladr University Health Board said it would co-operate fully with the independent investigation.
In May, the board said it was "deeply sympathetic" to the family but said patient confidentiality would limit its ability to comment on the case.
However, it added that "the decision to discharge Mr Deyanov was in no way influenced by issues of funding or shortages of beds".
Julian Hendy, the founder of support and campaign group Hundred Families, said more needs to be done to help the people whose loved ones are killed by someone with a mental illness.
Speaking on BBC Radio Wales, Mr Hendy claimed mental health services currently put the rights of the perpetrator ahead of those of the victim.
"That's not fair and we hope it will change," he said.
"There is no support and advocacy for victims' families in the health service like there is in the criminal justice service where you have family liaison and victim support.
"We hope there will be openness, transparency and accountability.
"We see the same problems coming up but very little seems to be learned," he added.