Health officials tackle C. diff cases rise in north Wales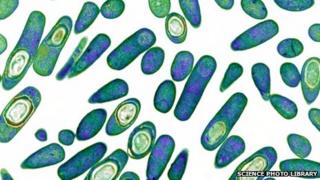 Health officials are tackling an upturn in cases of the superbug Clostridium difficile (C. diff) in hospitals in north Wales.
Last month, 47 cases were reported by Betsi Cadwaladr health board (BCUHB), with the rate above the Wales average.
"Intensive intervention" has been carried out at one ward at Glan Clwyd and another at Ysbyty Gwynedd.
BCUHB said it was working closely with Public Health Wales to understand infection control issues.
The latest concerns follow an outbreak earlier this year at Glan Clwyd Hospital in Denbighshire which brought 96 cases of C. diff and the deaths of 30 patients while suffering from the bacterial infection.
BCUHB was strongly criticised for its handling of the outbreak.
It was one of the issues identified in an audit report by health watchdogs, which led resignations among the board over the summer.
Rapid review
In a progress report for its meeting next week, the health board said seven patients across north Wales have died as a result of the recent upturn in C. diff cases in September and October.
The rise in cases to 47 last month follow a fall in cases over the summer.
The rate of C. diff cases had risen to 5.90 cases per 1,000 hospital admissions in north Wales in October, compared to an all-Wales rate of 3.76 cases per 1,000.
Health officials are also to investigate why the proportion of total deaths from C. diff at Wrexham Maelor Hospital is almost twice as high as in the other two general hospitals, even though the rate of infection is less.
The findings come in a separate report from Public Health Wales (PHW) which examined the infection in north Wales for the first half of 2013.
It found the percentage of C. diff patients who died was 57% in Wrexham, 30% in Glan Clwyd and 34% in Bangor.
Measures brought in to combat the bug include extra staff in the infection control team, and rapid review audits being carried out of hand hygiene.
A spokesperson for BCUHB said it was is working closely with PHW "to understand the current issues in infection control and receiving support to manage any necessary actions."