Eisteddfod reports £76,000 surplus for Denbigh event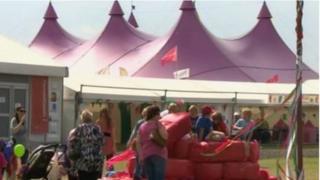 This year's National Eisteddfod, Wales' leading cultural event, which was held at Denbigh in August, made a surplus of £76,000, it has been announced.
Chief executive Elfed Roberts made the announcement at an eisteddfod council meeting in Aberystwyth.
Last year's festival in the Vale of Glamorgan achieved a £50,000 surplus.
But the eisteddfod has also experienced recent financial difficulties, suffering a £90,000 loss in Wrexham in 2011.
Mr Roberts thanked everyone who had "worked tirelessly" to make the Denbigh event a success.
He said: "Not only did they support the festival itself, they also showed their support and commitment for the whole of the two year community project, organising and attending over 360 awareness and fundraising activities in their own communities, reaching 111% of the local fund target.
"Today's meeting in Aberystwyth is an opportunity to formally thank the people of Denbighshire and the surrounding area, and to thank Denbighshire County Council, its elected members and staff for all their support and help over the past two years.
He said it was also an opportunity to evaluate a successful week in the Vale of Clwyd, as they published their own report on the festival and the community project.
"We will look back at the week, the generosity of the local communities and the welcome we received in the area very fondly, as will many of those who joined us in Denbigh during the first week of August."
National Eisteddfod chiefs are still considering their response to a report last month by a task force set up by the Welsh government in 2012.
The task force said the annual event should continue to travel around Wales, rejecting suggestions of the festival establishing permanent bases.
But the report said each eisteddfod should "experiment, better reflecting the area it is visiting".