Ruthin flood relief cash help agreed for Glasdir estate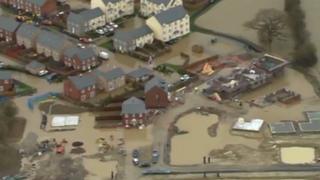 Flood relief work is due to be carried out at a Denbighshire estate where over 120 homes were deluged by water.
Denbighshire council and the developers at Ruthin's new-build Glasdir estate had already pledged to pay a third each towards the £300,000 project.
County hall officials said the work would start before Christmas now the Welsh government has sent a letter pledging to pay the remaining third.
Homes were flooded when the River Clwyd burst its banks in November 2012.
A report in September blamed blocked culverts for the flooding.
There had been growing concern that the Welsh government was not acting quickly enough but the council had assured residents it would look for ways to get the work done.
Councillor David Smith, the cabinet lead member for environment, had said: "It is imperative that we move as quickly as possible on this in order that the residents of Glasdir are safe and can at last sleep soundly in their beds."