HSBC Llangollen closure protest on 150th anniversary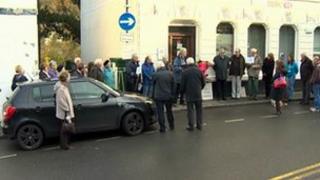 Residents in a Denbighshire town have protested against the closure of a local bank as it marks its 150th anniversary, amid claims the timing is "insensitive".
The Llangollen branch of HSBC is due to close in February, with the bank blaming a drop in customers.
Staff had organised a celebration to mark 150 years in the town.
The chamber of trade asked local residents and businesses to make their views known.
Earlier this month, an HSBC advert invited local people to an exhibition celebrating 150 years of the branch on Thursday.
Simon Collinge, of Llangollen Chamber of Trade and Tourism, said he was sure the irony of the situation would not be missed by HSBC bosses.
The chamber says Llangollen is a "major tourist destination" and people expect to see an HSBC branch.
Denbighshire county councillor Stuart Davies said the timing of the 150-year celebration was "insensitive".
Up to 25 protesters gathered outside the bank and rang a "tolling of the bell" at 12:00 GMT.
They presented staff with a card asking for the bank to remain open for another 150 years.
HSBC previously said the "level of business is not sufficient to justify the branch's continued operation and we have taken the decision to close the branch.
"Whilst we fully understand the depth of feeling about our decision to close this branch, the decision is final".
HSBC said customers with accounts based at Llangollen would now be managed at the Wrexham branch.
A spokeswoman said the nearest HSBC branches to Llangollen were Ruabon and Chirk, both less than seven miles (11km) away.
She added that Barclays and Natwest have branches in the town, and customers could access their HSBC accounts at Llangollen's Post Office.
The Llangollen branch is one of three earmarked for closure by HSBC in north Wales.
On Anglesey, the Beaumaris branch will close, as well as Conwy town's branch - although the bank is considering leaving a cash machine there.