Wrexham Royal Welsh reservists join Flintshire squadron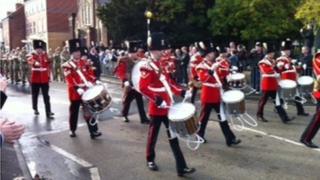 A parade has been held in Flintshire as the Welsh Transport Regiment takes over an army reserve centre.
Reservists from A Company 3rd Battalion the Royal Welsh at Wrexham's Hightown Barracks formally became part of the logistic corps' first north Wales base at the event in Queensferry.
The move marks the end of Wrexham's 200 year connection with Welsh regimental soldiers.
The changes are part of the Army 2020 shake-up plan.
Members of Wrexham's A Company made their final public appearance at a Remembrance Sunday service in the town centre earlier this month.
The 3rd Battalion will continue at its other Welsh bases at Swansea, Pontypridd and Colwyn Bay.
The Squadron Formation Parade, involving around 40 personnel, took place on Tuesday at the Queensferry Army Reserve Centre.
It sees the creation of 398 (Flintshire & Denbighshire Yeomanry) Squadron which forms part of the Welsh Transport Regiment.
Four squadrons
During the event members of A Company 3rd Battalion The Royal Welsh were invited to remove their Royal Welsh berets and blanking patches to replace them with a Royal Logistics Corps beret and patch.
The Royal Welsh flag was withdrawn from the flag pole and replaced by the Welsh Transport Regimental flag.
The commanding officer with the Welsh Transport Regiment, Lieutenant Colonel Neil Blenkinsop said it will be the first time the regiment will have a presence in north Wales, although it has four squadrons in south Wales.
"I'm very excited about it as this is the first venture to this part of the country and will provide another range of jobs for reservists," he said.
Lt Col Blenkinsop added that although the work would be predominantly for drivers there would be other opportunities available.
"This is an excellent opportunity for reservists to get involved and be trained to drive heavy goods vehicles, fork-lift trucks and learn how to deal with dangerous loads," he said.
"In fact, we look forward to building a relationship with local employers as our training will provide a lot of the skills needed by industry in the area."