£15.5m Flintshire council cuts set to hit staff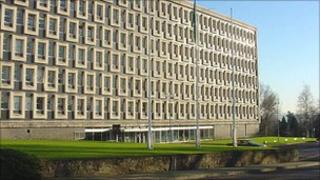 Cutting staff numbers is being considered by Flintshire council to save £15.5m next year in what it says is its biggest challenge since local government reorganisation.
The council's cabinet is discussing the impact of funding cuts and has been told November is a "critical month" to develop proposals ready for January.
The finance report said the budget shortfall would be met from internal savings as well as "workforce changes".
Staff will be consulted on the plans.
The Welsh government's draft budget in October revealed an overall cut of 3.6% for Flintshire in 2014/15.
Many of Wales' 22 councils have already started to plan for how they will meet their budget shortfalls.
Some are planning cuts to services such as libraries, refuse collections and public toilets.
But Flintshire council leader Aaron Shotton says the authority is planning to take a "different approach" with internal savings and "reductions in the scale and cost of senior management level as a first priority".
Mr Shotton says the authority has not faced a "challenge of this scale" since the authority was created in 1995-6.
He says the council could be restructured in 2014 with further "workforce reductions" reviewed carefully and sensitively in the weeks ahead with options including early retirement and voluntary redundancies.
"We are working intensively on options to reduce the internal running costs of the council, including management, operating and workforce cuts before turning to any difficult choices on the future of local services," he said.
Flintshire council's detailed budget proposals will be made available in January before any final decisions are taken, says the cabinet committee report.