Airbus secures more than £30bn in airshow orders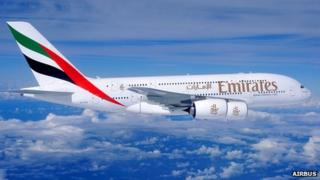 The plane manufacturer Airbus has secured deals for aircraft potentially worth over £30bn on the first day of the Dubai airshow.
The Dubai airline Emirates wants 50 more Airbus A380 superjumbos, in deal said to be worth £14.2bn.
Airbus says that order will protect 2,500 jobs at its UK bases in Flintshire and Bristol.
United Arab Emirates flag carrier Etihad could spend up to £16.7bn on nearly 120 planes, including 50 A350s.
Etihad has placed firm orders for 87 aircraft, with options for another 30.
Doha-based Qatar Airways has also agreed a £600m deal for five A330 freighters, with an option to take a further eight, bringing the potential order total to £1.7bn.
Wings for all the planes are made the Airbus factory at Broughton in Flintshire, which employs over 6,000.
Commentators view the Emirates deal for more A380 planes as significant, as sales of the world's largest commercial passenger aircraft suffered in 2012.
After initial orders of 30 planes, only nine were sold.
"Emirates has understood from the start that the A380 is unmatched in terms of efficiency, economics and passenger comfort and a true crowd-puller," said the head of Airbus, company president Fabrice Bregier.
"We value our partnership with Emirates Airlines and are pleased to see this getting stronger each day with their A380s flying."
Emirates has already taken delivery of 39 A380 planes, which can carry between 500 and 800 passengers.
The wings for the plane are designed at Filton, Bristol, before being made in north Wales and then shipped to Toulouse in France where the plane is assembled.
UK Business Secretary Vince Cable welcomed the A380 announcement.
"This major new order protects over 2,500 jobs in Filton and Broughton and will also be welcome news for the many thousands more workers employed by companies who supply smaller parts to the aircraft from across the UK," he said.
"The British aerospace industry is a global leader, second only to the United States. This is one of the UK's major success stories.
'Flagship' plane
Announcing the deal, the chairman and chief executive of Emirates, Sheikh Ahmed Bin Saeed Al-Maktoum, said the A380 remained popular with passengers.
"The A380 continues to be the flagship of our fleet," he said.
"This latest order will help us meet both fleet expansion and fleet replacement needs."
However, the biennial airshow has also seen a brisk trade for Airbus rivals, the American plane maker Boeing.
Emirates wants to buy 150 of Boeing's 777X planes, which will be seen as the main competition to the Airbus A380 when it goes into production by the end of this decade.
That deal is thought to be worth some £47bn ($76bn) alone.