Adventure tourism event showcases Dee Valley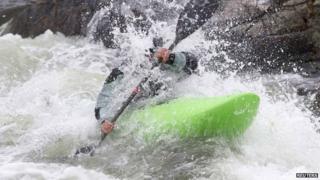 A festival showcasing the Dee Valley as a hotbed for adventure tourism is taking place in Llangollen.
The first Flo-Llangollen Festival is offering visitors taster sessions in activities such as mountain biking and kayaking.
A host of outdoor experts at the three-day event include wild river kayaker and adventurer Erik Boomer.
The Dee Valley benefited from a slice of £16m awarded to boost outdoor and adventure activities in Wales in 2010.
Organisers claim the Dee Valley is sometimes overlooked by adventure tourists but they said it offered a number of attractions from mountain bike trails, abseiling, climbing and kayaking to hill walking.
Flo-Llangollen is being staged by River Legacy and supported by rural regeneration agency Cadwyn Clwyd and the Clwydian Range and Dee Valley Area of Outstanding Natural Beauty (AONB).
David Shiel, the AONB's senior countryside officer, said: "The event fits into the general move to promote the activity sector in the Dee Valley - Cadwyn and the AONB supporting the Outdoor Forum in the Dee Valley and bringing businesses together.
"The outdoor sector in the Llangollen area is working more together to promote activities in the Dee Valley and we're making sure it's done in a sustainable way."
American wild river kayaker Erik Boomer and his Canadian partner Sarah Landry-McNair are just back from a 65-day, 620 mile (1,000 km) crossing of Baffin Island in Canada by canoe, ski and on foot.
Mountain scrambling
They will join a host of other outdoor experts in Llangollen including British climber Adele Pennington, the first woman to climb Everest twice.
Event organiser Sarah Henderson said: "Llangollen is a perfect place for an event like this because of its fantastic facilities and the fact that it is easily accessible to so many people.
"We're delighted at the line-up of people we have coming and the range of activities they can try their hands at - from archery to white water kayaking and rafting.
"You could be on a mountain scrambling course with mountaineer Adele Pennington who is coming here from Nepal while for canoeists and kayakers they just don't get better or more full-on than Erik Boomer.
"We're even putting on mountain biking courses because Llangollen has the steepest competition track in the world and we're giving people the chance to canoe across the Froncysyllte Aqueduct and that's pretty extreme."
The festival runs until Sunday.