Donald Williams's Airbus factory death was 'misadventure'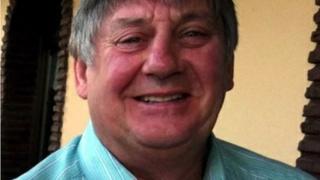 An experienced and respected factory mechanic at Airbus in Flintshire died after being crushed in a works accident, an inquest heard.
Donald Williams, 62, from Buckley, was caught between a tractor and a hopper in the incident in November 2011 and died later in hospital.
An inquest jury reached a conclusion of misadventure.
The company said its thoughts were with Mr Williams's family, friends and colleagues.
Colleague Stephen Shone, a driver and mechanic, told the hearing that Mr Williams, known as Donny, was working in the garage on a hydraulic hose linking a tractor to a hopper.
Mr Shone entered the tractor cab and switched on the engine while Mr Williams stood behind the rear nearside wheel.
He pulled the lever to activate the system and raise the hopper then heard Mr Williams shout so pushed the lever back and saw his colleague trapped.
Other colleagues rushed to help, and Mr Williams was taken to the Countess of Chester Hospital where he died after suffering a fractured skull.
Highly regarded
The inquest in Ruthin heard that on the day of his death Mr Williams had started work at 07:30 GMT and, as he often did, was due to finish at 21:00 GMT after completing a second shift as overtime.
Mr Shone and two other employees, Michael Shone - no relation - and Andrew Cartwright said that Mr Williams was very highly regarded and not a risk-taker.
All three said that it was common practice to work overtime.
A specialist in working patterns told the hearing it was unlikely that fatigue had been a factor in the incident.
Andrew Crouch, a health and safety inspector, said the tractor had been operating properly and it was possible that the hopper had risen, crushing Mr Williams, because the control had been in the "on" position when the ignition was switched on.
North East Wales Coroner John Gittins said after hearing from witnesses that working practices had since changed and he did not feel it necessary to submit a report to try to prevent future deaths.
An Airbus spokesperson said: "Airbus has been fully involved with the official investigation as part of our ongoing commitment to safety and we will further consider all the evidence and the comments made by the coroner.
"Our thoughts and deepest sympathies are with Mrs Williams and the friends, family and colleagues of Donny Williams at this difficult time."