Royal Welsh ends tradition at Hightown Barracks, Wrexham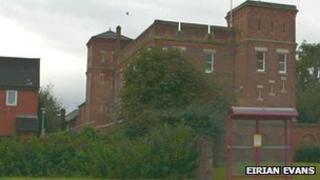 Wrexham's long tradition with Royal Welsh soldiers is coming to an end.
The 70-strong members of A Company 3rd Battalion The Royal Welsh are pulling out of Hightown Barracks in the town.
Some will join the Welsh Transport Regiment at Queensferry, Flintshire, as part of the Army 2020 shake-up plan.
Members of Wrexham's A Company, which is made up of reservists, made their final public appearance at a Remembrance Sunday service.
The service took place at the Royal Welch Fusiliers Memorial in the town centre.
An Army spokesman confirmed Hightown Barracks would remain open with command assumed by members of the 101 Battalion Royal Electrical and Mechanical Engineers.
The 3rd Battalion The Royal Welsh will continue with its operations at Swansea, Pontypridd and Colwyn Bay which some Wrexham-based reservists could also join.
The Royal Welsh was formed by a merger in 2006 involving the Royal Welch Fusiliers which had a long association with Wrexham as the headquarters of the former infantry regiment.
Personnel from A Company will take part in a special ceremony at Queensferry Territorial Army Centre on 19 November.
They will be welcomed by their new colleagues when they become known as 398 Squadron.
The shake-up of the Army will see it made up of a reaction force including other battalions of the Royal Welsh in an elite armoured regiment.
As part of it, the 2nd Battalion The Royal Welsh (Royal Regiment of Wales) will be withdrawn from battle following a merger with 1st Battalion The Royal Welsh (Royal Welch Fusiliers).
Soldiers from 2nd Battalion paraded through Penarth town centre in the Vale of Glamorgan on Saturday after the Royal Welsh Regiment was granted the freedom of the county borough.
Vale of Glamorgan mayor Margaret Wilkinson said: "It is important for the Vale of Glamorgan to demonstrate our continued support of our armed forces and I am delighted and proud to welcome the Royal Welsh back to this area."
She said it was the last time 2nd Battalion was marching before the merger with 1st Battalion.
"On behalf of the residents of the Vale of Glamorgan, I wish them all the very best for the future," she added.