Darrell Mercer jailed for attack on sleeping girl, 10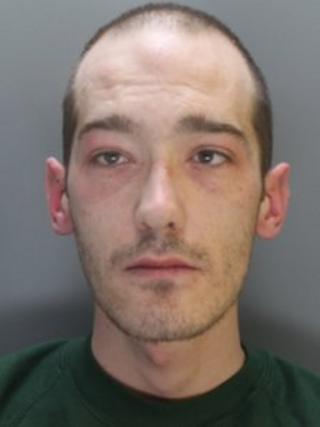 A convicted sex offender who grabbed a 10-year-old girl as she lay asleep in bed has been jailed for four years.
Darrell Mercer, 28, from Prestatyn, Denbighshire, was sentenced at Mold Crown Court after being convicted of trespassing with intent to commit a sexual offence in April.
The judge said the experience had had a "profound" effect on the girl.
The youngster screamed, alerting her mother who was downstairs when she heard the front door being pushed open.
Judge Paul Thomas QC, who was sitting in Swansea Crown Court, sentenced Mercer who was in Mold via a live television link.
The judge told Mercer the offence was "brazen".
"You went to this young girl's bedroom in order to sexually assault her," he said.
"The effect of what you did to this young girl was profound.
Life 'upside down'
"She no longer feels safe in her own home, she wants to move out, and has nightmares on a frequent basis.
"At the age of 10 she feels to need to carry an alarm with her everywhere.
"You have turned her young life upside down. I can only hope that time will change that situation."
The judge said it was not the first time Mercer had assaulted a young girl, saying there were similar elements in an earlier case.
A previous hearing had been told the defendant was convicted of indecent assault against a nine-year-old girl in 2002.
In addition to the four year sentence, Mercer was placed on the sex offenders' register for life.
A sexual offender's prevention order was made and the judge warned him that any future sexual offence would lead to "an extremely long sentence indeed."
The girl had told a jury during the previous hearing that she opened her eyes one night last April and saw him, smelling of alcohol, crouched above her.
After she screamed, her mother ran upstairs and met Mercer on the landing and tried to take hold of him, the hearing was told.
He gave a false name and claimed he thought it was his house before escaping.
Police were called and the prosecutor said Mercer walked away from the house.
But he was traced as he had left behind a red and grey jacket and a mobile phone.
Mercer admitted assaulting the girl by grabbing her wrist and neck.