Wrexham super-prison: 'Too big' and 'will not help Welsh prisoners'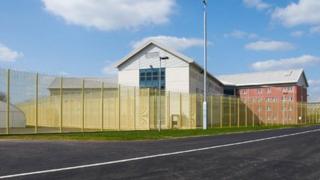 Wrexham's super-prison will be too big and will not house that many prisoners from Wales, it has been claimed.
An article published by the Institute of Welsh Affairs (IWA) said potential benefits for Welsh prisoners should be treated with "scepticism".
Author Robert Jones said only a quarter of the 2,000 inmates might end up being from Wales.
The Ministry of Justice dismissed the claims and said it was replacing "older, inefficient" buildings.
On Friday the same author said the super-prison would not necessarily provide jobs for local people.
Mr Jones, a PhD student at the Wales Governance Centre, a research unit at Cardiff University, said the prison may not deliver the promised jobs and could damage the area's economy, as locals will have to compete for jobs with people from a much wider area.
The UK government chose Wrexham Industrial Estate as the location for the super-prison.
'Scepticism'
Plans have been submitted to Wrexham council and, if approved, the prison will be built near homes in Pentre Maelor, and will open by 2017.
Mr Jones is researching imprisonment and devolution in Wales, and has written a review which was published by the IWA as part of the independent think-tank's research project into devolution of policing and justice to Wales.
As part of his work Mr Jones also looked at the size of the prison, and prison policy and Welsh devolution.
He says statistics point to better performances in smaller prisons - with under 400 prisoners.
He also argues that prisoners from Wales might not benefit from the new development, as most of them will end up in prisons in England anyway.
'Ignored'
"In reality, having eliminated a range of 'non-eligible' Welsh prisoners the proposed north Wales 'super' prison may in fact result in a situation whereby only 500 Welsh prisoners are in fact held there.
"This would help to create a situation whereby almost three quarters of the prison's population are in fact from England."
Mr Jones added that in view of "recent prison data" it appears that even when a prison has been set up to "recognise and respond to the needs of Welsh prisoners" - such as HMP Altcourse in Liverpool, or even existing prisons in Wales - it does not mean that Welsh prisoners are actually held there.
"Any talk of potential benefits for Welsh prisoners should be treated with a great deal of scepticism," he said.
"The north Wales super-prison looks increasingly likely to stand as something which might merely come to represent another prison in Wales as opposed to something that was envisaged and designed in order to improve the situation of justice for Wales," he added.
On the prison and devolution Mr Jones said the Ministry of Justice has not only "ignored" the Welsh Affairs Committee recommendation for a 'medium-sized 500 places prison' but the location is also wrong, as the problems for Welsh prisoners and their families are felt most strongly by those from north west Wales.
"The Wrexham super-prison, with a capacity of 2,000 prisoners is not only four times this recommended size, but it being located in the least convenient place for north Wales as a whole."
The article also claims the new prison could be a way to stop the justice system being devolved.
In its evidence to the Silk Commission, the Welsh government said it wanted criminal justice powers in Wales.
Mr Jones adds: "In announcing north Wales as the location for the super-prison the UK Government has moved to safeguard the future maintenance of the England and Wales justice system, against the Welsh government's wish to have it devolved.
"Arguably, therefore, the UK government's £250m investment in the super-prison can be interpreted as a £250m investment in the maintenance of the single England and Wales jurisdiction."
In a statement released on Friday the Ministry of Justice said: "We refute these claims and remain in no doubt that the new prison in Wrexham will be a huge boost for the local economy.
"It is set to create up to 1,000 jobs and boost the regional economy by around £23m a year, providing millions of pounds worth of construction opportunities and great possibilities for local businesses.
"Across the country we are replacing older, inefficient accommodation with newer buildings that are cheaper to run.
"We will also hold prisoners close to their homes, which we know helps prevent reoffending."