Charlie Boys from Wrexham wins at Celtic Manor contest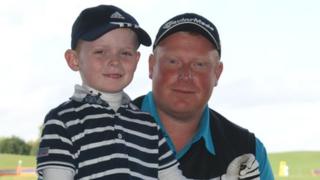 A six-year-old golfer from Wrexham has won his first major tournament at one of Wales' most prestigious golf clubs.
Charlie Boys won the boys' seven and under category in the Welsh Mini Masters competition at the Celtic Manor near Newport.
His father, Gareth Boys, said Charlie was the youngest at the competition, organised by charity Shelter Cymru.
He said there was "no pressure" on Charlie, who took his grandfather to the contest to be his caddy.
Mr Boys, a PE teacher, said he was "so proud" of his son.
He said he played "fantastic" at the Celtic Manor and the "standard was exceptional".
Mr Boys said his son was a year younger than the other competitors, which made his win even more remarkable.
He said Charlie was "over the moon" with his win, adding: "It's made his year, I think."
Charlie took up golf when he was five, and is coached at the Clays club in Wrexham.
Mr Boys said the family were considering a two-year plan "towards national representation," but "only if he wants to."
Welsh Mini Masters organisers could not confirm whether Charlie was the youngest competitor, but Andrew Jones, Shelter Cymru's fundraising manager, said his category was the youngest.
He added: "Congratulations to all the winners from yesterday's final.
"This year's event has been the best yet and has made a tremendous contribution to the work of Shelter Cymru."