New bride Gemma Hannigan's tribute to husband Simon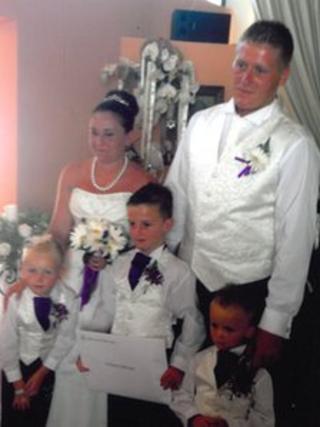 A widow has paid tribute to her childhood sweetheart, who died after being struck by a car, two months after they married.
Simon Hannigan, 27, from Wrexham, died after colliding with a Vauxhall Corsa as he walked on the A483 on Saturday.
His wife Gemma said the pair, who were together 14 years, married two months to the day before his death.
She described the father-of-three as "a family man who would do anything for everyone".
Mr Hannigan was hit on the southbound carriageway at about 18:20 BST on Saturday, and police later appealed for witnesses.
Mrs Hannigan said her husband doted on their three boys, Aled, seven, Ethan, five and three-year-old Ryan.
'Devastated'
She said: "We were all so happy."
Mr Hannigan was a bricklayer and recently worked in Africa.
Mrs Hannigan added: "Over there, he taught the Africans how to plaster and render as well as build.
"He was there for about nine months in total, but stopped because when we got married he wanted to start married life at home with us."
She said the family was "devastated," adding: "Simon will be sorely missed by everyone who knew him."
The couple married in Cyprus in August.
Mrs Hannigan added: "Everyone loved him. No one has got a bad word to say about him.
"He made friends easily with anyone wherever he went."