European protected status bid for Denbigh plum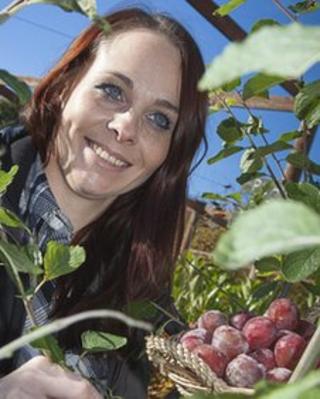 A bid is being made to get protected status for a plum which was probably developed in a Denbighshire town by medieval monks.
If successful, the Denbigh plum would join Welsh Lamb and Beef with the special status.
Officials are applying for the Europe-wide Protected Geographical Indication (PGI) status
The plum, which used to grow across north Wales and England, has been traced back to the 13th Century.
Other products which have PGI status include Stilton cheese, Arbroath smokies and Newcastle Brown Ale and Melton Mowbray pies.
'Long gone'
"The earliest record of fruit-growing in Denbigh is in the 13th Century when the monks at the friary were grafting fruit trees which almost certain included plums," said Helen Williams, a BA history graduate from Glyndwr University in Wrexham who has researched the fruit's history.
"The friary is long gone and only ruins remain but it was in Abbey Road in the town and there are still some very old Denbigh plum trees in a garden there which could possibly be the descendants of those developed by the monks."
Ms Williams said fruit orchards would have developed in the area and would have been supplying the markets of Denbigh until Victorian times.
"The first mention of it in literature was in the 1840s but it would already have been very old by then and certainly it was growing in the gardens at (National Trust property) Erddig, near Wrexham, because metal plate labels have been found with Denbigh seedling plum stamped on them."
National food map
A dossier about the Denbigh Plum has now been drawn up to apply for the PGI status.
It will first be scrutinised by the Department for Environment, Food and Rural Affairs (DEFRA) before it is presented to the European Commission.
Ian Sturrock, who grows old Welsh fruit trees - including the Denbigh Plum - commercially, said he did not know of any other native Welsh fruit tree which had the protected status.
Success in achieving PGI status for the plum would mean a possibility of more following, he added.
The plum will have star billing at the Denbigh Plum Festival next weekend, and event sponsor Mario Kreft, of Pendine Park Care Homes in Wrexham, said it is something to be celebrated.
"Recognition for the Denbigh plum would be a real boost to food producers in Denbighshire and help put them on the national food map," he added.