Mobility scooter hit-and-run: Gresford man, 85, injured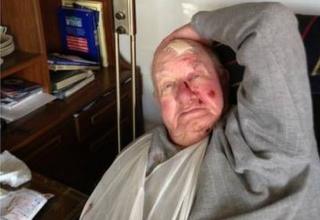 Police in Wrexham are looking for a hit-and-run driver after an elderly man on a mobility scooter was injured.
Bill Jones, 85, has his arm in a sling and facial injuries after the collision in Gresford on Friday night.
Mr Jones was leaving Gresford British Legion around 21:30 BST when he was hit by a blue BMW.
"He feels like he's done fifteen rounds - he's not feeling fantastic but he's not the type of person to show it," said grandson John Peake.
Mr Jones, a former lollipop man and gas engineer originally from Swansea who has lived in Gresford nearly forty years, is recovering at home after treatment at Wrexham Maelor hospital.
Police have asked anyone with information about the incident or the car involved to call them on 101, quoting reference number P176634.