Former Wrexham FC chief executive Paul Retout jailed for fraud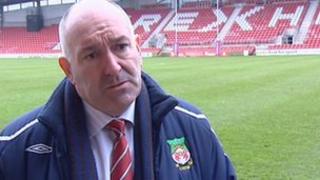 The former chief executive of Wrexham FC, Paul Retout, has been given a 16-month jail sentence for a £60,000 fraud.
Retout, 53, admitted submitting false invoices to London-based company Quadrangle Group in 2007 and 2008 while a partner with the firm.
Kingston Crown Court heard that he had started at the group in 1989 as a financial controller.
He stepped down from Wrexham football club in 2010.
The court was told on Thursday that Retout made claims for work he had not done, blaming his "chaotic" family life after moving to north Wales.
"You were not acting dishonestly from the outset, but you became dishonest when you later invoiced and obtained money for work you had not done and for which you were not entitled, money obtained from the partnership," Judge Nicholas Jones told Retout.
The judge said he also accepted that the ex-football club boss, who had his family home in Ruthin in Denbighshire, had shown remorse for his actions.
Retout is also expecting to be stripped of his professional standing as a chartered accountant, the court heard.
He pleaded guilty to committing fraud by abuse of position at a court hearing last month.
The court was told that Retout obtained £59,806 as result of his fake invoices, and also carrying out work which had not been authorised in advance by the firm.
A civil legal case with Quadrangle has been settled, and Retout has also made part-repayment of the defrauded money.