'Terrifying' burglars Colin Maher and Michael Rhodes jailed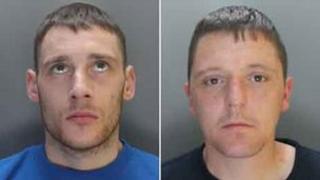 Two masked men who terrified a family in their own home during an early morning burglary have been jailed.
Mold Crown Court heard they punched one woman in the face, threatened her and two others at knifepoint, and tried to stab a man with a screwdriver.
Heroin addicts Colin Maher 31, and Michael Rhodes, 33, from Rhyl, admitted aggravated burglary at the house in Kinmel Bay.
Jailing them for eight years, a judge said it was "the stuff of nightmares".
"It understandably had a profound effect on the victims," Judge Rhys Rowlands added.
"This was truly a terrifying ordeal at the hands of the two of you."
Struggle
Prosecutor David Mainstone told the court how 20-year-old Chantelle Palmer was staying the night with her parents and a 17-year-old girl was also present.
In the early hours of 14 May, Miss Palmer was woken by a bang to find two men in the room - one had a hood covering most of his face and the other had a scarf covering his lower face.
Both were wearing gloves, and one stood over her bed three feet away. The intruder looked at her and told her to give him money but she said she did not have any. He then held an eight-inch knife to her throat and again demanded money.
Mr Mainstone said the burglar punched her, but she bravely hit him back and there was a struggle.
While that was going on, a young woman aged 17 in the same bedroom was woken up to find a knife being held to her throat by the other man.
"The knife was thrust at her five times before he punched out at her but she pulled her head away and they didn't connect," Mr Mainstone explained.
She heard the first knifeman say that "his boys are outside".
'Shaking'
Miss Palmer's parents heard a commotion and entered the room. Her mother Ananka Palmer saw a man holding a knife at her daughter and then she "felt an arm and something cold across her neck".
"She realised a knife was being held across her throat," said Mr Mainstone.
"She pushed the man away with both hands, hard, she saw his face was covered and was terrified. She ran out of the room and was shaking."
Her husband Carl Palmer grabbed hold of one of the knifemen and they struggled with each other.
The intruder then lunged at Mr Palmer with a screwdriver in a stabbing motion but the householder was able to grab the attacker's throat to prevent him being stabbed, the court heard.
It was at that stage that Miss Palmer took the screwdriver away from the attacker and her father was able to pull him out of the house. The burglars then fled in a stolen car.
The defendants had been drinking before the burglary, their barristers said.
Maher received an additional 18 months in jail for possessing heroin with intent to supply.