Ex-Denbigh mayor denies ball-bearing blast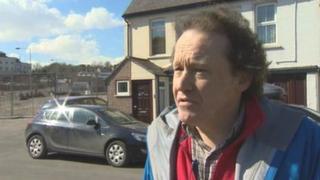 A former Denbigh mayor has told a trial that he was not responsible for a series of blasts in the town.
The incidents culminated in a home-made bomb being detonated under a car, scattering ball-bearings and shrapnel.
John Larsen told Caernarfon Crown Court that he had played no part in the explosions in the Lenten Pool area between January and April.
The 46-year-old denies causing an explosion, possessing explosives and three arson attacks on cars.
During his trial, the prosecution has claimed that there was "a strong compelling case" that Mr Larsen was the man behind the booms and blasts heard and seen in the area.
One witness described how she had seen the town councillor near cars just before an explosion detonated under a Land Rover car.
The blast showered ball-bearings and shrapnel over a large area, smashing windows.
One resident even found that one of the ball-bearings had hit a headboard on their bed.
An explosives expert told the court earlier that the ball-bearings had either been packed or strapped on to the device and would have been ejected from the bomb at "several hundred metres per second" with the potential to cause serious injury of even death to any passersby.
Hobbies
But addressing Mr Larsen, his defence barrister, Gordon Hennell asked him: "Did you ever use any ball-bearings as shrapnel in a device?"
"No, never," replied Mr Larsen, who had been the mayor of Denbigh in 1999.
Mr Larsen told the jury that he had an interest in fireworks as one of his hobbies, alongside magic tricks.
He also accepted that he had experimented with fuels for rockets.
But Mr Hennell said the allegations against the defendant went further than experimentation.
"The suggestion is that on March 24 you have not simply experimented, but set off an explosive device which has got ball-bearings added," he said.
Larsen maintained: "No, that's incorrect. I didn't do that."
Asked bluntly whether he had played any part in the night-time explosions in the Lenten Pool area, the defendant replied: "No, not at all."
He told the jury that he had been at home in bed when the blasts occurred except for "a few occasions", and that he only went out late at night to check his wife's car.
"It gets very rowdy at night," he added.
'Sinister' fireworks interest
Cross-examined by prosecution barrister, Wyn Lloyd Jones, the defendant again denied being involved in the incidents in Lenten Pool.
Asked whether he wanted to distance himself "from the sheer horror of what you did", Mr Larsen replied: "No."
The prosecutor said all the components for the device were in his home. But Mr Larsen described it as "standard firework material".
Mr Lloyd Jones suggested the items had nothing to do with magic tricks and children's entertainment. He said Mr Larsen's interest in fireworks "became a lot more sinister."
The defendant declared :"No, it didn't."
Mr Larsen was arrested on 19 April 2013, and police found a mix of chemicals, modified fireworks, rockets, flares and a book on pyrotechnics at his home.
He denies causing an explosion likely to endanger life or cause serious injury to property on March 24. He also denies three charges of arson in which cars were damaged, and possessing an explosive substance.
The trial continues.