First Milk in Maelor in talks with Arla to save 231 jobs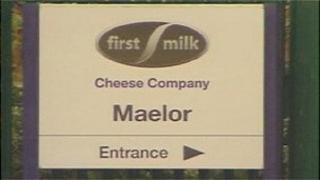 Talks are being held to save more than 230 dairy workers' jobs following plans to close a Wrexham creamery.
First Milk's cheese-packing plant in Maelor could close by the end of May 2014 after losing a "significant" contract with Asda.
Danish company Arla has taken over the deal and will operate from its site 12 miles (19 km) from Wrexham.
But First Milk said it is negotiating with Arla to employ its staff who will otherwise be made redundant.
Paul Flanagan, external relations director for First Milk, told BBC Radio Wales: "In our conversations with them we believe they've got a legal responsibility and also a moral responsibility that with picking up this business from Asda the employees should go with that.
"So we've had conversations with them about that and their site is only based 12 miles away, so they're very, very close."
He said despite Arla resisting taking on the current workforce, negotiations were still under way.
"We've got a responsibility to our employees to go through this consultation properly and do it well," he added.
David Johnson, the national officer for the Usdaw union which represents workers at the plant, said losing the contract was "devastating news" and "totally unexpected".
"We're surprised at the decision of Asda, but it raises serious question marks, I think, where a retailer can make a commercial decision to move one order from one business to the next and the consequence of that is 231 job losses," he said.
"I think it raises serious moral questions."
Mr Johnson said it was a "price-driven" decision to terminate First Milk's contract.
The Welsh government said it was "disappointing news" and it would be meeting urgently with First Milk.