Improvised Denbigh bomb 'could have killed', court hears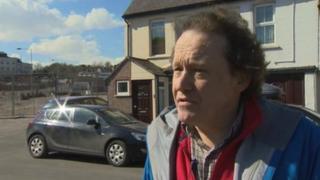 An explosive device that was set off in a Denbighshire town could have led to serious injury or death, an explosives expert has told Caernarfon Crown Court.
The improvised bomb was detonated in Lenten Pool, Denbigh, in March, smashing windows and scattering shrapnel and metal ball bearings.
Former town mayor John Larsen denies being responsible for the blast and a series of arson attacks on cars.
He also denies two charges of possessing explosives.
Forensic scientist Kevin Sanders told the jury he examined the remains of the device that went off at Lenten Pool on 24 March.
Metal fragments from the device were found "twisted and had sharp edges".
They were also covered in a grey sooty residue, which was "consistent with being in close proximity to an explosion," Mr Sanders said.
The jury heard the fragments had come from a drinks or food can, and had probably held a chlorate-based explosive.
The expert said those type of explosive chemicals were not normally used in commercially-made fireworks, and it would be a "home-made" explosive.
Window smashed
The court also heard ball-bearings found scattered around the area had either been in the can-bomb or strapped to it.
One of those ball-bearings smashed a nearby bedroom window and hit a bed headboard.
"They would have been ejected (by the blast) at several hundred metres per second," said Mr Sanders.
"If anyone had been passing they would have been likely to have caused serious injury.
"If it hit in the head it could have caused death."
The trial has heard that the blast in March was the culmination of weeks of bangs and blasts in the Lenten Pool area, that had left some residents "terrified".
Mr Larsen, who is a town councillor and had been a mayor of Denbigh in 1999, was arrested at his nearby home on 19 April.
A search of his home recovered a wide-range of chemicals, modified fireworks, ball-bearings, flares, and a book on pyrotechnics.
The jury has been told it is part of Mr Larsen's defence that he had an innocent and legitimate interest in fireworks.
The trial was told many of the chemicals found in his home could be used to make gunpowder and firework flash-powder.
There were also components used to colour fireworks, and fuse wires to ignite them.
The defence case is due to start on Wednesday, when Mr Larsen is expected to give evidence.
The trial continues.