First Milk's Maelor plant may close with loss of 231 jobs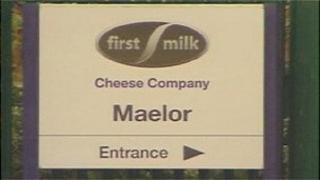 A dairy company has announced plans to close a Wrexham creamery with the possible loss of 231 jobs.
First Milk has told staff its cheese-packing plant in Maelor could close by the end of May 2014.
The firm has lost a "significant" contract with Asda and said it had informed trade unions. It will begin a staff consultation soon.
The Welsh government said it was "disappointing news" and it would be meeting urgently with First Milk.
A spokesman said all possible options would be examined "to try to safeguard the future of the packing facility and the jobs at Maelor".
Welsh Secretary David Jones said it was a "sobering reminder of the challenges the Welsh economy still faces".
"The news that there may be a significant number of job losses at the First Milk site in Wrexham will cause a great deal of concern to the workers, families and communities affected," he added.
"The Wales Office is in close communication with the company and we are committed to working with the Welsh government to offer all the support we can at this difficult time."
In a statement, First Milk - a co-operative owned by farmers across the UK - said it was "no longer economically viable for the business to keep the site at Maelor operational".
A spokesman added: "We very much regret the need to make the proposal to close our Maelor operation.
"We have a hard-working, loyal and committed workforce there and we are aware of the impact that this news will have on them.
"We will of course seek to provide those potentially affected with every support and address ways in which the impact of the proposals can be reduced."
The spokesman added: "As a farmer-owned co-operative, the reason we're here is to deliver sustainable returns to our members and this announcement today supports that objective."
'Excellent service'
Clwyd South AM Ken Skates said: "This announcement will devastate First Milk's loyal and hard-working employees and is a major blow for the local area.
"I am disappointed to see Asda end their contract with the company after the excellent service they have been shown by the workers over the years."
In a statement, Asda said: "Unfortunately as part of a long-term strategic review, we have decided that from April 2014 we will be switching the supply of some of our cheese from First Milk to Arla.
"We appreciate how disappointing this news will be for them but we want to reassure everyone that this decision was not taken lightly."
Wrexham council leader Neil Rogers said it was a "sad day for Wrexham".
He added: "Our thoughts are with those employees who are to be made redundant and their families.
"It is important that Wrexham does everything it can to develop its economy by attracting new businesses into the county borough."
Last year, First Milk announced £13.5m redevelopment plans which it said would safeguard 220 jobs.
The firm said it needed to invest in new production facilities at the Maelor creamery to remain competitive.
Wrexham councillors approved plans for the company to build a new cheese-cutting and packing centre, including offices.