Glynis Solmaz: Death burglary jury considers verdict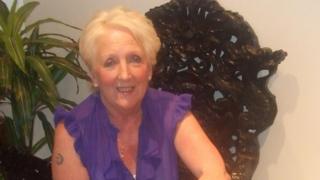 The jury has retired to consider its verdict in the trial of two men accused of murdering a pensioner in a burglary.
Glynis Solmaz, 65, was killed at her Wrexham home in February, Mold Crown Court has been told.
Alexandros Wetherill, 24, from Wrexham, denies murder but admits manslaughter. Christopher Curran, 34, from Wrexham, denies murder.
Mr Justice Griffith-Williams told the jurors to consider the evidence "objectively and dispassionately".
Both men admit conspiracy to burgle with Mrs Solmaz's ex-son-in-law, Christopher Natt, and David Lovell.
Safe
It is alleged that Mr Natt told them that there was £40,000 in the safe at the pensioner's home and Mr Curran recruited Mr Wetherill to commit the burglary after asking two others to do it first.
But Mr Wetherill, in restraining Mrs Solmaz, has accepted that he caused her death but that he did not intend to.
Mr Curran says he had no idea that he would confront Mrs Solmaz and said that it was their intention that the burglary was committed when she was not at home.
In fact, the safe contained £10,000 and Mrs Solmaz's body was found in the bedroom two days later.
She had been choked to death.
Summing up, the judge said that Mrs Solmaz was a slightly-built woman who lived alone in a property in Caia Park, Wrexham.
'Common sense'
"There is no issue that she was killed during the commission of a burglary at her home," he said.
The prosecution alleged the defendants were jointly responsible for her death as they had shared the intention to cause really serious injury.
It said if Mr Curran stood by when Mr Wetherill was compressing Mrs Solmaz's neck, he became a participant in the assault upon her.
Before the jurors retired to consider their verdicts, the judge told them the fact Mrs Solmaz was the victim of violence in her own home would excite sympathy or pity, but he added: "You must not allow yourselves to be influenced by such feelings."
They should consider the evidence objectively and dispassionately and "above all apply their common sense", he said.