Glynis Solmaz burglary was 'ruthlessly executed', court hears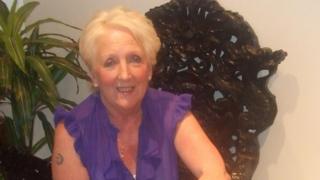 A burglary which resulted in the alleged murder of a pensioner had been "carefully planned and ruthlessly executed", a court has heard.
Glynis Solmaz, 65, was killed in her Wrexham home in February, Mold Crown Court has been told.
Alexandros Wetherill, 24, from Wrexham, denies murder but admits manslaughter. Christopher Curran, 34, from Wrexham, denies murder.
The jury is expected to retire to consider its verdict on Tuesday.
Both men admit conspiracy to burgle with Mrs Solmaz's ex-son-in-law, Christopher Natt, and David Lovell.
In his closing speech on Monday, prosecutor Simon Medland said the victim was subjected to a prolonged assault.
The court heard Mr Wetherill had admitted causing her death but he was not alone.
Once Mr Curran - the alleged organiser and lookout - entered the house, he also became liable for her murder, the court heard.
Mr Medland said Mr Wetherill attacked Ms Solmaz after she had hit him.
"He got her on the bed and tightened his grip around her neck, a deliberate act to stop her, to subdue her, to silence her, with a martial arts sleeper hold," he said.
The burglary had been "carefully planned and ruthlessly executed" and Ms Solmaz had been the victim of a continuing assault, he said.
Stephen Riorden QC, for Mr Wetherill, told the jury the prosecution speech was high on rhetoric but low on facts.
He said Mr Wetherill had never intended to seriously injure the victim, and that was the sole issue for the jury.
Joint enterprise
He added: "He is a burglar who has admitted to you that he went too far but that does not make him a murderer."
Nigel Powel, QC for Mr Curran, said that for his client to be found guilty of murder or manslaughter, he had to be part of a joint enterprise at the time the fatal injuries were inflicted.
However, the evidence showed the injuries were inflicted while the defendant was outside the house and he knew nothing about it until later, he said.
He added: "The reality is in doing what he did, Wetherill was on a frolic of his own which went beyond the contemplation of Curran."
It was terrible that he had planned a burglary at the home of Ms Solmaz and that he had done nothing to help her when he went to the bedroom, the court was told.
But he said there was a difference between moral abhorrence and criminal responsibility.
The judge, Mr Justice John Griffith-Williams, is expected to sum up the case on Tuesday before retiring the jury.