Maes Garmon school's war history project gets lottery cash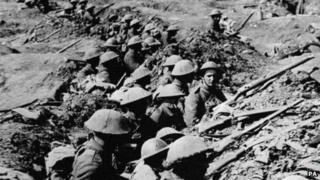 A Flintshire school is leading a £10,000 community history project to research how World War I affected life in the surrounding area.
The Heritage Lottery Fund money will enable Mold's Welsh medium Maes Garmon school to commemorate the centenary of the Great War next year.
The school is appealing for local people to share memories and memorabilia for the bilingual project.
Pupils will also visit museums and archives as part of the project.
The school's history department will establish a pupil-led committee to collate research for a community website and a special exhibition next spring.
Proceeds from the sale of DVDs showcasing the research will go to the restoration of a memorial dedicated to thousands of men of the 38th (Welsh) Division who died on the Somme in 1916.
The red dragon sculpture stands near a village in Picardy at an area known for the Battle of Mametz Wood which claimed many lives.
History teacher Owen Thomas said: "As a school we felt it was important that pupils of all ages were involved in marking the centenary and learning about the conflict and having been part of the project from the very beginning when we were applying for funding, they can't wait to get going with their research."